THE FIVE COLLECTION VILLAS
About
The Five Collection Villas
This compound of five beautiful private villas are truly unique on the island. Located on the white cliffs of Ambelas, with unobstructed views of the Aegean Sea and the island of Naxos, these villas epitomise island luxury and home comforts. With a total of 38 rooms across four independently rentable villas, each villa is designed to pay homage to Paros's wild nature with infinity pools surrounded by large outdoor marble spaces and bountiful Mediterranean gardens. The Five Collection is the ultimate island experience in style and privacy!
EXPLORE OUR VILLAS
The Architecture
The design is a fusion of classic Cycladic architecture and modern minimalist design. The architect was mindful of seamlessly integrating the island's natural elements, while the white marble floors reflect the Greek sun which seeps in through the floor-to-ceiling windows. The gardens are exquisite and a true ode to the natural surrounding. The white and turquoise tones and beautiful spacious bathrooms convey the grace and flair of this hidden gem of an island.
EXPLORE OUR VILLAS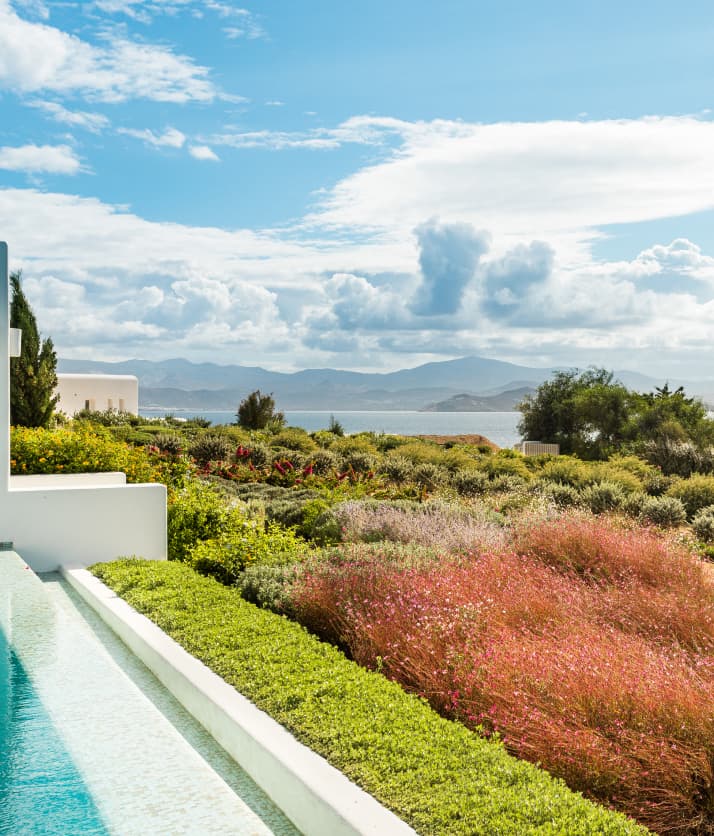 The Location
The villas are located in Ambelas, a mere six minute drive from Naoussa; a picturesque fisherman's town and the main attraction of the island consisting of most restaurants and shops. The construction of this 27,000 sqm property started in 2014 and took eight years to complete. The villas bring a new level of luxury and style to the island of Paros, with Italian Bisazza infinity pools, outdoor bars and professional kitchens, profession tennis and basketball courts as well as an outdoor gym which boasts unique views of the sea!
EXPLORE OUR VILLAS